System and Network Monitoring and Management With SNMP
John Sellens
GNAC Canada
jsellens@gnac.com
USENIX LISA-NT 99
July, 1999
Introduction and Goals
An introduction to practical SNMP use
Provide a simple overview or survey of what is possible
``Industry acceptable practices''
Some basic tool coverage
Relatively independent of operating systems, etc.
What is SNMP?
Simple Network Management Protocol
Defined in Internet Standard 15, RFC 1157
A method to query and control ``devices'' connected to a network
Transaction based, uses UDP ports 161 and 162
Implemented by virtually every device on an IP network now
Used for almost all network management and monitoring now
Less used for computer system management and monitoring, but also very useful in that area
SNMP Basics
Two systems involved

Agent - the device on the network
Manager - sends queries to and receives responses from the agent

Three goals

Easy and small to implement
Extensible to accomodate changing needs
System and architecture independent
Protocol Basics
There are five types of SNMP messages

Get
GetNext
Set
Response
Trap e.g. coldStart, linkUp, linkDown, etc.

Simple, short, easy to contruct, ``unreliable'' UDP datagrams
Some Simple Examples
% snmpget host1 pswd system.sysUpTime.0
system.sysUpTime.0 = Timeticks: (28946675) 3 days, 8:24:26
% snmpget localhost pswd system.sysContact.0
system.sysContact.0 = jsellens@uunet.ca
% snmpset localhost wrpswd \
system.sysContact.0 s jsellens@gnac.com
system.sysContact.0 = jsellens@gnac.com
% snmpget localhost pswd system.sysContact.0
system.sysContact.0 = jsellens@gnac.com
Some More Simple Examples
% snmpget host1 pswd interfaces.ifTable.ifEntry.ifDescr.5 \
interfaces.ifTable.ifEntry.ifPhysAddress.5 \
interfaces.ifTable.ifEntry.ifOperStatus.5 \
interfaces.ifTable.ifEntry.ifSpeed.5 \
interfaces.ifTable.ifEntry.ifInOctets.5
interfaces.ifTable.ifEntry.ifDescr.5 = ed0
interfaces.ifTable.ifEntry.ifPhysAddress.5 = 0:60:97:93:4e:5b
interfaces.ifTable.ifEntry.ifOperStatus.5 = up(1)
interfaces.ifTable.ifEntry.ifSpeed.5 = Gauge: 10000000
interfaces.ifTable.ifEntry.ifInOctets.5 = 38675277
Even More Simple Examples
% env PREFIX=.iso.org.dod.internet.private.enterprises.ucdavis \
snmpget localhost pswd disk.diskPath.3 \
disk.diskUsed.3 disk.diskAvail.3 disk.diskTotal.3 \
disk.diskPercent.3
enterprises.ucdavis.disk.diskPath.3 = /tmp
enterprises.ucdavis.disk.diskUsed.3 = 33
enterprises.ucdavis.disk.diskAvail.3 = 28863
enterprises.ucdavis.disk.diskTotal.3 = 31408
enterprises.ucdavis.disk.diskPercent.3 = 8
% snmpwalk localhost public
... lots of output ...
SNMP Variables, MIBs, and OIDs
Every object is a variable, with a hierarchical name
e.g. iso.org.dod.internet.mgmt.mib-2.system.sysUpTime.0
A ``Management Information Base'' is a textual description of a set of SNMP variables and the possible values
An ``Object Identifier'' is the numeric equivalent
e.g. 1.3.6.1.2.1.1.3.0
You can typically query by either name (full or partial) or OID
MIB-II (RFC 1213) is expected on every device
The final number is (usually) an index into a table of values
e.g. the interface or disk volume tables
SNMP Security
In SNMP v1, interactions are governed by shared secrets knows as ``community strings'' - usually a ``read'' and a ``write''
This is not a ``high-security'' mechanism

Everything is clear text, and it's all or nothing
No challenge response, no one time passwords

But this is a result of the typical intended use of the protocol i.e., automated, not commands initiated by humans at a keyboard

v2 and v3 improve things, as does the ``View-Based Access Control Model'' (RFC2275), but are (currently) less used
Device and OS Specific Information
Most vendor SNMP agents also implement private enterprise MIBs

Often have to resort to reading the raw MIBs to understand

e.g. Cisco has an environmental MIB, NT has domain and DHCP MIBs, NetApp has disk-related MIBs
Different vendors are better or worse, some information is hard to find and/or use
But the vendor MIBs often have the most worthwhile variables
SNMP Applied: Monitoring
Monitoring is for trends and exceptions
Poll or Trap
Collect history for analysis and execption identification
Accounting or session data, traffic or activity levels
Ripe for automation
Have tools ready for investigation when needed
Can do a lot with only the standard MIBs
Monitoring: How to Notice Problems?
Catch traps

as long as the agent will trap what you want
and as long as you don't lose the trap packet

Periodic poll

put the last polled value in a file, complain if changed
some variables are ``last change time'' which is convenient for noticing transient changes
Polling is a nice backup mechanism for traps

Perl/VB/Tcl script or large commercial application
Some sort of notification mechanism
Monitoring: How to Watch Trends?
Some sort of historical database, and some sort of visualization
MRTG (and its successor Cricket) is the way to go
Very easy to track just about anything, and low overhead
Favorite things to graph: memory, CPU, disk, network, uptime, users, mail waiting to be read, queue lengths, ...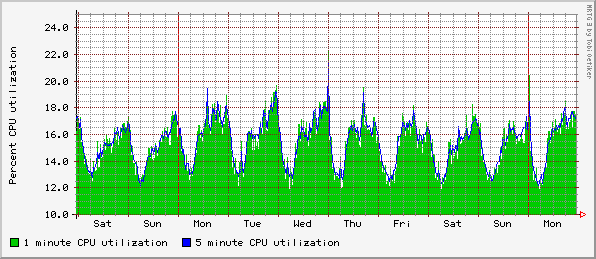 Monitoring: What?
State changes e.g. network interface up/down

Or last change time, which is easier to notice when flapping

Threshold limits e.g. disk more than 99.99% full

Queue sizes, traffic levels, users, web hits, ...
Also watch for minimum thresholds

e.g. less than 3 users in the daytime might be a problem

Directional changes e.g. uptime should always be increasing
Security related stuff - # users in user database, failed authentications, etc.
SNMP Applied: Management
Management is for manipulation and administration
Remote configuration and manipulation
Device configuration backups
Kick unruly users off dialup ports
More often triggered manually
Some tasks are well automated e.g. config backups
Management: How?
Depends largely on vendor-specific MIBs and implementation
And often the vendor's applications or OpenView addons
But you can accomplish a lot with a few simple SNMP gets and sets

Usually best if wrapped by a script for ease of use

Change management and version control are problematic

Consider doing periodic config file backup and doing revision control on that
Management: What?
Really depends on the agent's capabilities and the device type
Networking devices:

Enable/disable/configure ports on routers or switches
Some routing tweaks e.g. weights, gateways

Computers:

Typically fewer things that you can change on the OS
The NT MIBs imply a reasonable level of remote control

Like any remote manipulation, don't shoot yourself in the foot
Prediction: this will get better and be more effective soon
Basic SNMP Tools - 1
A basic tool set for interactive or script use
I'm not counting commercial applications as ``basic'' tools
Primarily UNIX in origin, but also on NT (mostly)
Not surprisingly, these tools happen to be freely available
Current OS releases typically include an agent, and perhaps some tools
Basic SNMP Tools - 2
UCD / CMU SNMP

Command line tools in C for manager and agent
Implements standard MIB-II, Host Resources MIB, plus the ``ucdavis'' MIB
Extensible - can monitor anything
libsnmp for writing applications
UCD agent not (yet) available for Windows
Better than ``snmputil'' from the NT reskit
Basic SNMP Tools - 3
Scotty - Tcl Extensions

The Scotty package contains the Tnm Tcl extension, and the Tkined interactive network editor application
Tnm provides a very good library of SNMP-related functions, written in Tcl
scotty is a Tcl shell that includes Tnm
Very nice, well documented, worth learning Tcl for
version 3 beta works under Windows
Basic SNMP Tools - 4
Perl

Simon Leinen's SNMP_Session.pm provides the basic SNMP functions in a native Perl module
Works, but is currently somewhat rudimentary
No support for MIBs, so everything is specified as an OID
Mike Mitchell's SNMP_util.pm provides convenient covers for some of the SNMP_Session.pm functions, and a labelling mechanism for SNMP variables

Windows-specific tools - I'm not familiar enough to say
Basic SNMP Applications - 1
There are many applications, commercial and non-commercial, that use SNMP
These are typically for network monitoring and management, though they usually have some flexibility
What follows is a quick overview of some ``well known'' applications
Basic SNMP Applications - 2
MRTG - Multi Router Traffic Grapher

An AMAZINGLY useful tool by Tobias Oetiker - you need MRTG (or Cricket below)
Generates graphs of almost anything over time, using a simple config file, and makes them available through a web server
Typically used to monitor traffic counts on routers and other network devices, but can graph anything e.g., temperature, uptime, messages in mail queue, disk usage, etc.
Very widely used, lots of examples on the web site
Works on Windows NT and UNIX
Basic SNMP Applications - 2
MRTG Successors

MRTG is not as fast as one would like it to be, and if you're monitoring lots of things, you can generate a non-trivial load
RRD Tool is Oetiker's next generation tool - Round Robin Database tool

major speed improvement over the MRTG engine

Cricket by Jeff Allen is a high performance replacement for MRTG that uses RRD Tool as it's engine

easy, tree-structured configuration, flexible
very fast

MRTG is more mature, but Cricket is getting there
Basic SNMP Applications - 2
Other Freely Available SNMP Applications

NOCOL/NetConsole (Network Operation Center On-Line) is a system and network monitoring tool that uses SNMP for some of its polling
Big Brother has similar goals but approaches them differently

Some Commercial SNMP Applications

Typically for mapping, monitoring and management, with lots of graphics
HP OpenView - very popular, with lots of plug-ins
Cabletron Spectrum - an OpenView alternative
Netcool from Micromuse

Similar to nocol, but far more sophsticated, fewer graphics
Summary
If you're not using SNMP yet, start now
The state of the art is advancing
More and more SNMP tools, more and more SNMP applications
Better security and control models
Modest collection of SNMP pointers at:
http://www.generalconcepts.com/resources/snmp/
Questions?
---
John Sellens
1999-07-20