Madeleine Mathon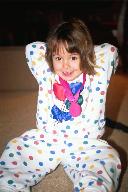 She's almost 3, and a complete delight.
---

Joanne Mathon and John Sellens are thrilled to tell you that our daughter Madeleine Evangeline Sellens Mathon was born at 26 minutes past midnight in the early morning of Friday, December 22, 1995, weighing 9lbs 4oz and perfect in every way! She was born with 10 fingers and 10 toes, and a full head of long dark hair. Joanne and Maddie are both just fine, but both need just a little extra sleep these days.
Maddie arrived about a week after we expected her, and we were both anxiously awaiting her arrival -- Christmas cards and Christmas shopping were both put off until Maddie was here. All three of us have been delighted with the care given by our midwives, Evelyn and Martha, who have been great all throughout the last nine months. Maddie is a happy and healthy girl -- so healthy in fact that two weeks before she was due we thought she might be twins! An interesting afternoon followed by an ultrasound showed that we just had one slightly big baby, which was both a relief and just a bit of a disappointment too!
---
Picture Gallery And, of course, we have lots of pictures of Maddie for your entertainment.

Friends and Relatives Some of Maddie's friends and relatives are on the net too.
---
HomePage MAIL: jsellens@generalconcepts.com
john.syonex.com:/home/jsellens/www/generalconcepts/jms/family/maddie/index.wml
1999-06-10 00:26:51 --- 2013-10-29 17:15:05
---